Binance Review
Binance is the world's largest cryptocurrency exchange.
It has a phenomenal range of trading pairs, as well as an unmatched 24-hour trade volume.
Learn everything there is to know about Binance so that you can become a pro crypto trader!
Even if you're already adept in the ways of Binance, we're pretty sure we can teach you a couple of nifty tips and tricks that will supercharge your experience at Binance!
What is Binance?
Binance emerged as a young and ambitious cryptocurrency exchange.
It quickly grew in popularity thanks to its advanced features and range of trading pairs.
It also didn't hold back when it came to listing new coins.
Binance is now the most popular crypto exchange in the world, with the largest 24-hour trade volume.
It's without a doubt that Binance is the king of crypto exchanges.
The complete guide to Binance
The crypto world is still fairly new, and it's evolving with every passing day.
So, it's key to use a cryptocurrency exchange that understand this and supports the ever changing ideologies of cryptocurrency.
Today, we're taking a look at Binance.
So, get ready to learn everything about Binance, including some things that you might not know existed!
Hold on to your hats!
The history of Binance
Binance launched in early 2017 by Changpeng Zhao (CZ) and was originally based in China.
CZ is known for his programming skills, and build high frequency trading platforms for stock brokers back in 2005.
In its early days, Binance opted to leave China ahead of a cryptocurrency ban, moving to Japan.
By January 2018, Binance was the largest cryptocurrency exchange by trade volume, and retains that title more than 3 years later.
In May 2019, Binance suffered its first major breach where 7,000 Bitcoin was stolen.
The exchange went down for several weeks while investigation was carried out.
Binance reimbursed all traders by 19 May, 12 days after the attack took place.
Since then, Binance has not had any issues and has developed into a safe, secure, and trustworthy exchange.
Binance also launched its own cryptocurrency, Binance coin (BNB).
BNB is used to get access to cheaper fees, participate in the Binance Launchpad and to pay for gas fees on the Binance Smart Chain.
In the beginning, you could only trade cryptocurrency pairs at Binance, but as it became more popular, Binance added a slew of fiat currency pairs.
How to buy cryptocurrency at Binance?
Binance supports a wide range of currencies, both fiat and crypto.
If you don't wish to verify your account, you can withdraw up to 2 Bitcoin per day.
If you verify your identity, this limit is lifted.
The more levels of KYC that you complete, the higher this limit becomes.
The best way to complete verification is through the mobile app as you need to take selfies and pictures of your ID.
You can do it on a computer, but you'll need a webcam to make it work properly.
Binance states that it will take up to 10 days to complete the verification process, but during our personal experience, it took just under 1 hour.
The time will vary depending on the quality of your images and how busy the Binance compliance team is.
Unverified users can withdraw 2 Bitcoin per day, while verified users can withdraw up to 100 BTC daily.
Fiat traders can currently deposit the following currencies:
AUD
BRL
EUR
HKD
KZT
NOK
PEN
RUB
TRY
UAH
UGX
Binance allows you to buy and sell actual cryptocurrency, so consider setting up an external wallet while you're waiting for your verification to go through.
This will be where you want to store your crypto, as exchanges can be a dangerous place to leave crypto long-term.
Ready to learn how to buy crypto at Binance?
If you're already a Binance pro, you might want to skip this section.
But it never hurts to go back over the basics.
Step-by-step guide
Binance makes buying and selling cryptocurrency incredibly easy.
But, we know that it can still be confusing for some, especially if it's your first time.
So, we're going to walk you through the registration process and making your first crypto trade!
If you already know how to do this, feel free to skip ahead!
Step 1 – registration
First up, you're going to want to go to the Binance website and hit the register button.
Then you can pick to fill in your email address and pick a password or fill in your mobile number and pick a password.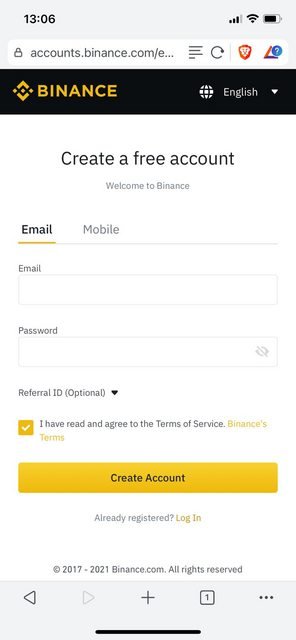 Complete the magic puzzle and then wait for a code to be sent to your phone number or email address.
Fill in the code and you're good to go.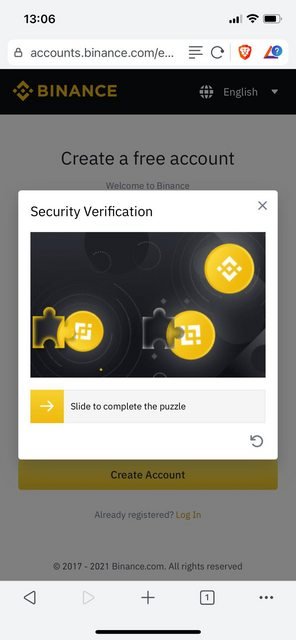 Once you navigate to the dashboard you'll be asked if you want to enable phone verification or Google Authenticator.
We recommend that you use a dedicated 2-factor authentication (2FA) app like Google Authenticator or Authy over mobile verification.
This is because people can clone your sim card and then access your account.
To set this up, click on Google Verification and download the 2FA app you wish to use.
You can then scan the QR code or enter the code into the 2FA app you wish to use.
Save the special key somewhere secure.
You'll need this in case you lose access to your 2FA account.
Then, input the email verification code and the code showing on the 2FA app.
Once you've done this, your account will be safe and secure!
Step 2 – verification
Now you've got your account sorted, it's time to get you verified!
You've got 3 levels of verification to pick from, each with their own perks.
Basic is your first choice, and this can take up to 1 day to complete.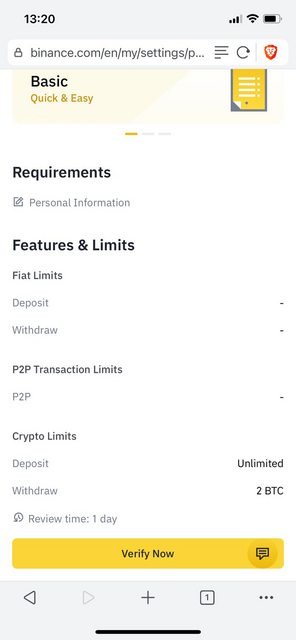 All you have to fill out is basic personal information,
Intermediate verification is the next choice.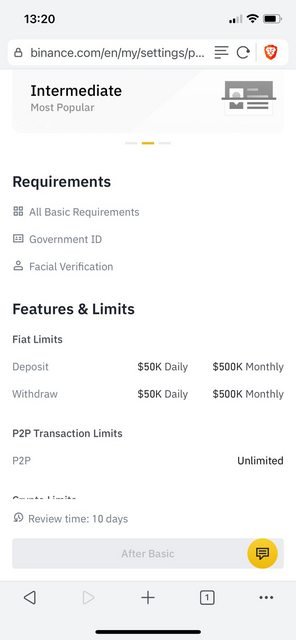 This will crank your limits up to $50,000 daily for deposits and withdrawals, capped at $500,000 monthly.
For this you'll need to submit all the basic requirements, your government ID and a selfie.
Finally, we come to the Advanced verification status.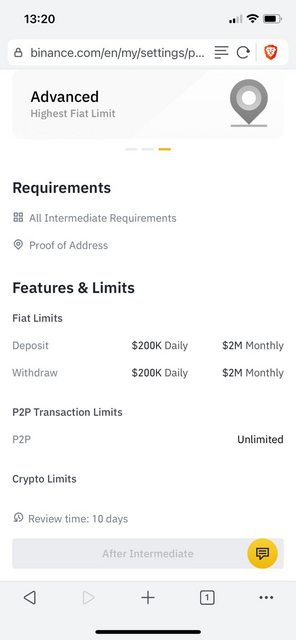 For this, you need to submit everything that you did for the intermediate, plus a proof of address.
This will be something like a utility bill or legal letter that clearly shows your name and address.
Your reward?
A daily deposit and withdrawal limit of $200,000, capped at $2,000,000 monthly.
That's a whole lot of cheddar, so only do this if you really need to withdraw that much.
Otherwise, you're wasting your time.
It takes 10 days to approve this level of verification.
Intermediate verification is a nice balance and is the level we recommend.
Step 3 – deposit
Now you're verified, you can deposit into your Binance account.
Simply click deposit on your dashboard and you'll be taken to a page where you can pick your deposit method.
For fiat currencies, simply pick your currency from the dropdown menu, then pick a deposit method.
SEPA Bank transfers are free to make, but take up to 3 working days.
Card deposits are instant, but come with a 1.8% fee.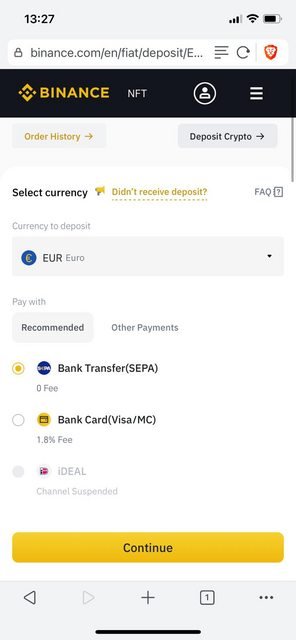 You can opt to deposit in crypto by picking the crypto option at the top of the page.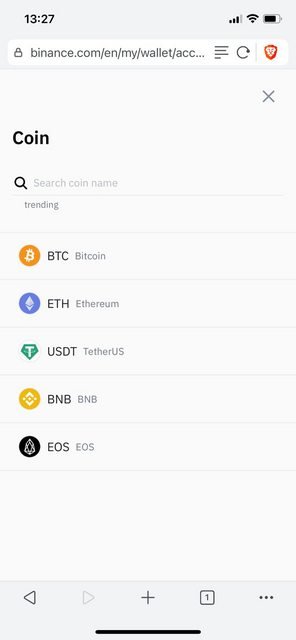 Again, select the currency you wish to deposit and the amount.
Copy the address and make the transaction from your crypto wallet.
Confirmations vary based on cryptocurrency, so you could have to wait a few hours before your crypto deposit is credited.
Step 4 – Buy Cryptocurrency
Now you're all set to buy cryptocurrency at Binance.
Once your deposit has cleared, head on over to the exchange.
Once there, pick a trading pair that you'd like to use.
Let's say that you deposited Euros and you want to buy Bitcoin.
You'd pick BTC/EUR as the market.
Then, set it to a market order.
The default setting is a limit order, which means you set the maximum price you wish to pay for Bitcoin.
This is useful if you're a more advanced trader, or you simply don't mind waiting a bit for your trade to complete.
Market order will fill your order at the current price in an instant.
Type in how much Bitcoin you'd like to buy or use the percentage buttons to auto fill the form with a percentage of your balance.
Once you're ready, hit buy!
That's it, you just made your first cryptocurrency buy at Binance!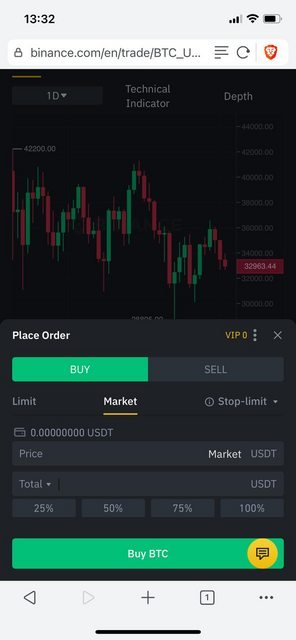 Sending cryptocurrency to your external wallet
Now you've bought crypto from Binance, it's time to move it somewhere safe.
Exchanges get hacked all the time, and your crypto can go missing.
So, now you're going to want to open up your crypto wallet that you created while you were waiting to get validated.
With that open in one tab, go to your Binance dashboard > wallet > overview and then select withdraw.
From here, you can pick the cryptocurrency that you wish to withdraw.
If you've bought an ERC-20 token, make sure that you send it to a wallet that supports ERC-20 tokens.
The same goes for BEP-20 and TRC-20 tokens.
It's very important to get the wallets right, as if you make a transaction to the wrong wallet address, your crypto is gone for good.
So, take a bit of extra time to make sure you're using the right wallet and address.
If you're unsure about this, check out our guide to crypto wallets.
When you're happy with all the details and amounts, hit withdraw and it will be processed by the system.
Depending on how busy the network currently is, it could take a couple of hours for the funds to appear in your personal wallet.
Buying cryptocurrency at Binance with a credit card
If you want to buy crypto at Binance with a credit card, then you're in luck.
Binance added support for credit card purchases back in 2018.
Simply head to the deposits page and pick your fiat currency.
Then, pick the card option and hit continue.
It's worth noting that depositing at Binance with your card will cost you 1.6% in fees, which is quite a chunk of money.
But, that's the price you've got to pay if you want an instant deposit at the top crypto exchange.
If you don't mind waiting around, there is another option that you can explore!
Other payment methods available at Binance
Depending on your currency of choice, there will be a few different options available to you.
Bank transfer is one that's available to virtually everyone.
These are free to make and are processed within 5 working days.
To make a bank transfer to Binance, simply pick your fiat currency then the bank icon.
You'll be given account details and a reference to use when making the transfer from your bank.
Follow the instructions on screen, and you'll be able to make a bank transfer to Binance in no time at all.
Banks prevent purchases of cryptocurrency
Unfortunately, not all banks are crypto friendly.
Some countries have banking bans on crypto.
This means that you cannot make a deposit to a crypto exchange directly from your bank, as the laws in your country forbid it.
Elsewhere, some banks will just ban you because they don't like cryptocurrency.
For example, in Malta, Bank of Valletta will ban any transaction to a cryptocurrency exchange, despite there being no banking bans in the country.
There are often ways around, such as using a payment processing method.
Some exchanges will use a payment processor that shows the transaction to your bank as something not crypto related.
The bank will then pass the transaction.
But, this is not something you generally have control over as the end user.
If you cannot use your bank at Binance, it's worth asking a friend to sell you Bitcoin in person, or use a Bitcoin ATM.
You can then deposit Bitcoin into your Binance wallet and go from there.
How to sell cryptocurrency at Binance?
When it comes to the time when you want to sell your cryptocurrency, Binance is on hand to help out.
All you have to do is head to the exchange, pick the pair you wish to trade and enter it.
For example, if you wish to sell your Bitcoin for Euros, head to BTC/EUR.
Once there, set the order to a market order to ensure it's filled instantly.
You can opt to use a limit order where you set your minimum sell price, but this can take longer to sell.
Pop in the amount you wish to sell, or use the percentage buttons to automatically fill the field with a percentage of your selected currency.
When you're ready, hit sell.
You've successfully sold your crypto!
Binance Wallet
When you store cryptocurrency at Binance, you'll be storing it in your personal Binance wallet.
What this means is that you're the only one that can send and receive crypto to this address.
However, it's not recommended to store crypto in your Binance wallet for long periods of time.
If Binance gets hacked, it's these wallets that will get drained first, even if you've got 2FA on the account.
Your Binance wallet supports all the currencies that Binance has to offer, so don't worry about buying a crypto through Binance and not being able to store it.
You can earn interest by staking your tokens and coins through your Binance wallet, but that's a story for another day.
You should always store your crypto in a wallet where you hold the private keys.
This prevents anyone else from accessing it and stealing the funds.
So, by all means use Binance to store your crypto for short periods, but avoid doing it long-term.
Binance Chain Wallet
Binance has developed its own browser extension wallet that you can use to interact with projects on the Binance Smart Chain and Ethereum networks.
You can install it on FireFox and Chrome, then setting up a new wallet inside the extension.
You can then transfer funds do it just like you would any other wallet.
The Binance Chain Wallet is very popular with people who are using decentralized finance (DeFi) contracts as it connects quickly and easily.
You can swap currencies inside the wallet and add more tokens.
It's Binance's version of MetaMask and is well worth getting if you plan to use the Binance Smart Chain.
Binance P2P trading
When you trade using the Binance exchange, it's known as spot trading.
You buy and sell cryptocurrencies directly with Binance, rather than other people.
You pay a commission on these trades and there's usually a bit of difference between the buy and sell price, known as the spread.
The larger a spread, the more money an exchange makes on the trade.
Binance offers a second type of trading, peer-to-peer.
This means that you're buying and selling cryptos directly with other people, rather than Binance.
It's cheaper to use than spot trading, but can take more time to fill your orders.
You set the price of the crypto you're selling and you can pick from more than 150 payment methods.
Instead of Binance controlling the deal, you can make deals with other traders on your own terms – how cool is that!
To use the P2P feature, click P2P in the menu or in your Binance dashboard.
Binance has an impressive range
Binance has the largest range of crypto trading pairs available, which has helped it become the number one crypto exchange in the world.
And it's constantly adding new pairs for you to trade, meaning there's never a dull day at Binance.
Currently there are more than 150 crypto trading pairs available, which is a whole lot of crypto!
You can trade all of the following currencies at Binance, plus more:
Binance also just launched a new feature, allowing you to buy and sell stocks with your crypto.
Unfortunately, the stocks sold through Binance are not redeemable, and they act like a contract for difference (CFD).
This means that you simply own a bit of paper giving you exposure to the price of the underlying stock.
So, let's say you buy Tesla at $600 through Binance.
If Tesla goes up to $700 and you sell, you get your original $600 back plus $100 in profit, minus the fees, of course.
Binance is one of the first crypto trading platforms to introduce stock trading, and it won't be the last.
It's certainly a unique way to get exposure to the biggest companies on the stock exchange.
Why Binance is the largest trading venue?
Binance is incredibly popular as it's safe, well known, and has a great range of cryptocurrencies.
There's also the option available where you don't need to verify your account.
This makes it very popular with anonymous traders, who will create multiple accounts to skirt around the limits in place.
If an account gets shut down, they simply create a new one and carry on.
Binance also has some of the lowest fees around, which if you couple it with the discounts available for high volume and holding BNB, you can cut the fees down to virtually 0%.
Another major factor in Binance's domination is the fact it has been translated into 42 different languages and marketed across the world.
Throw in its impressive advanced trading features and you have the best crypto exchange in the world.
Binance really is second to none.
The good, bad, and ugly at Binance
Binance doesn't always have the best reputation, but for the most part, it's a great place to trade cryptocurrencies.
At first, Binance appears a little overwhelming, especially when you dive into the exchange.
But, if you follow our guides, you'll quickly become at home, racing around the site like you're Jordan Belfort.
There is a Binance app which is sleek and easy to use, cutting out a lot of the gubbins that you don't need.
Binance also has a Secure Asset Fund for Users, known as SAFU.
This is a pool that will reimburse any user funds that are stolen from the platform, which is a major perk.
Not many exchanges have this feature, allowing Binance to stand out from the crowd when it comes to the safety of your funds.
Users from America and the UK have both been left in the dark for extended periods of time after regulators decided to turn on Binance.
Binance isn't regulated or licensed in the USA or UK, which saw Binance pull its service for Americans back in 2019.
As a result, Binance developed Binance US just for American users, which was regulated with local authorities.
The British regulators had the same reaction to Binance, banning Brits from using the platform.
The British situation is still unfolding, but we'll likely see a Binance UK rolled out in the coming months.
This happens far too often, and leaves users fearing for the safety of their cryptocurrency.
These are both examples of why you shouldn't store too much cryptocurrency on an exchange!
Is Binance safe?
Binance aims to be as secure as possible, but even then issues can still arise.
Back in 2019 Binance got hacked and saw 7,000 Bitcoin of user funds stolen.
While Binance has done its best to ramp up security, it's only a matter of time before someone more intrepid comes along and punches a hole in its defences.
So, there are a few measures that you can take to secure your funds as best as possible.
The first of which is don't leave funds on an exchange for longer than necessary.
Always use your own wallet that you control, not one on an exchange.
Two-factor authentication
When you create your account at Binance, you're encouraged to set up 2-factor authentication (2FA).
We ran you through that earlier, but we'll go through again just in case.
When you head to the dashboard for the first time, you'll get a message about 2FA.
Once you navigate to the dashboard you'll be asked if you want to enable phone verification or Google Authenticator.
We recommend that you use a dedicated 2-factor authentication (2FA) app like Google Authenticator or Authy over mobile verification.
This is because people can clone your sim card and then access your account.
To set this up, click on Google Verification and download the 2FA app you wish to use.
You can then scan the QR code or enter the code into the 2FA app you wish to use.
Save the special key somewhere secure.
You'll need this in case you lose access to your 2FA account.
Then, input the email verification code and the code showing on the 2FA app.
Google Authenticator
Google Authenticator is a very popular 2FA app.
It works on both Android and iOS and takes a few seconds to install.
Until recently, you couldn't transfer devices, meaning that if you lost your phone, you wouldn't be able to reset your 2FA codes or access them.
This feature was recently introduced after mass outcry.
It's generally safe, but as with all Google products, you never know.
If possible, opt for a more open source application for extra peace of mind.
Authy is a very popular alternative, and works exactly the same.
You follow the same steps as you would for Google Authenticator.
SMS authentication
Binance offers you the option to use SMS authentication for your 2FA, but this is a really bad idea.
A lot of scammers and hackers are resorting to a technique known as sim swapping.
In this attack, a hacker will call up your telecoms company and pretend to be you.
They claim you lost your sim or your phone and need a new one.
Security questions tend to be very weak, or they'll bribe the employee on the other end of the line.
Once they have your sim set up, they then request the 2FA code from Binance and they're into your account.
So, avoid using SMS 2FA wherever possible as it does not work.
Address Management
When you want to make a withdrawal from Binance, you can set up a list of addresses that are good to go.
This is known as your address whitelist.
Then, if you try to withdraw to a new address, you'll have to verify that you own it by clicking a link in an email that Binance will send you.
This is an extra layer of protection that will prevent hackers from sending crypto to their own wallets if they manage to get into your account.
It might seem a little far fetched, but you can never be too safe when it comes to crypto!
Device Manager
On Facebook and Google you can see which devices you are currently logged in on.
This is a great feature that allows you to instantly log devices out of your account at the click of a button.
You can also see which devices you have used, and remove any you don't recognize.
This simply logs this device out of your account, rather than banning it.
As such, you can use this list and its features without worrying.
Binance has a list just like this, so you can control which devices are using your Binance account in one handy screen.
It's a great tool to use, so consider checking it every now and then to triple check you've not stayed logged in on a device you lost access to.
Phishing protection
Whenever Binance sends you an email it will show you a code on the website or application.
This is known as a phishing protection code.
Inside the email, you'll see a code that should match that shown on the website.
Scammers and hackers will send out emails pretending to be from Binance, but if the code doesn't match that shown on the site, you know it's fake.
Do pay close attention to these numbers, as they're designed to keep you safe.
Scammers have been very successful in the past using this attack vector, so be extra vigilant.
Do you pay fees at Binance?
There are fees for just about everything at Binance, so be prepared to start paying.
There are varying fees for card deposits, card withdrawals, maker fees, taker fees, and more.
However, you can cut the fees down by buying and holding BNB.
You can also get a discount on trade fees by increasing your trade volume.
The more you trade, the less you pay in fees per trade.
The other option is to use BNB as your method of payment for fees.
By doing this, you can cut the fees payable down by 25%, which is a nice chunk of change that you can use to buy more crypto – hooray!
You can check out the full Binance fee schedule here.
Trade with leverage at Binance
Trading with leverage is very popular with established traders.
You can make a lot of money very quickly if the market goes your way.
However, it can also be extremely dangerous and you can lose your money faster than you can say CryptoMeister.
Binance offers up to 10x leverage trading, and you can access this by clicking on Margin from the menu.
What this means is that you can buy or short cryptocurrencies at Binance with more power than your balance allows.
So, let's say you have $100 in your account, you'll be able to buy or short Bitcoin for $1,000.
If the market moves upwards, then you keep the price difference.
However, if it goes down, you'll get liquidated as you don't have the balance to cover any greater losses.
To give you an example, let's say Bitcoin is worth $1 and you buy it on 10x leverage with your entire balance.
You'll have 1,000 Bitcoin and it will cost you just $100 thanks to the 10x leverage.
Now, if Bitcoin doubles in price and is worth $2, you'll be able to close the trade and pocketed $2,000.
That's a fantastic win for you, but it can go the other way.
If Bitcoin drops just $0.1 you trade will be closed and you'll have lost your $100.
So while you can win big with leverage trading, it's very easy to lose your head and money.
You will need to take a test before you can trade with leverage.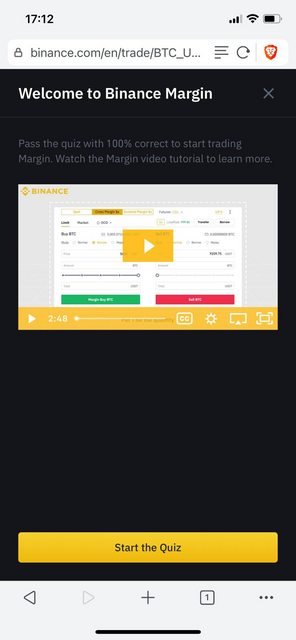 Trade stocks at Binance
Binance recently opened up a new feature that allows you to buy and sell stocks for crypto.
Simply head to the Stocks section in the menu and you'll be able to buy and sell stocks from the biggest companies in the world.
Of course, these aren't real stocks, instead they're contract for differences (CFDs).
This means that you're simply buying exposure to the stock, so you cannot do anything with it or collect dividends.
It's just a nice way for you to be able to add stock market exposure to your portfolio by using cryptocurrency.
The stock range is pretty limited at the moment, but that's because it's new.
In a few months we'll likely see dozens of stocks that you can trade, almost like you would at a stock broker.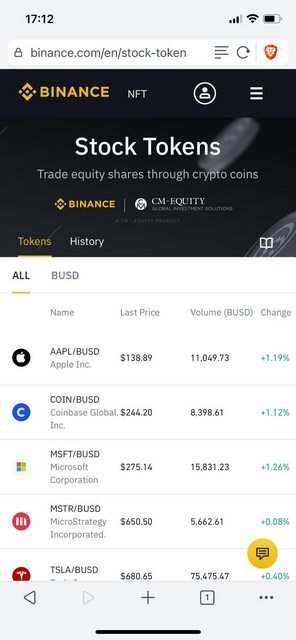 Buy crypto on your mobile
We live in an increasingly changing world, meaning we need to be able to do more on our mobile phones.
Fortunately for you, Binance has your back when it comes to crypto trading.
You can download the Binance app on Android and iOS, allowing you to trade cryptos and manage your portfolio on the go.
The app is free to use and has a lot of advantages over the Binance website.
It's much more condensed and easier to use, making it ideal for beginners to crypto and Binance.
It's kept up to date with regular updates.
But, make sure that you download it from the official Binance link as there are fake versions on the app store that will steal your credentials.
We personally prefer to use the mobile app as it's easier to use and a bit quicker.
Earn crypto at Binance
Binance has a really cool earning platform, where you can put your cryptos to work, earning you money as you relax.
You can opt to stake your cryptocurrency for set time periods – the average is 30 days.
You then get staking rewards back at the end of the 30 days.
If you wish to cash out earlier, you can, but you forfeit any earnings up to that point.
The rewards are higher if you leave the coins staked for a longer period of time, but you face other risks, such as loss from negative price movements while the coins were locked.
The other way to earn crypto at Binance is with its savings accounts.
You can pop crypto into a savings account and earn a small amount of interest on it.
You can remove from these accounts at any time without penalty.
The rate is generally less than 5%, but that's still much better than leaving the money sat in your bank account.
As always, none of these ways to earn are guaranteed and still come with an element of risk, so only play with what you can afford to lose.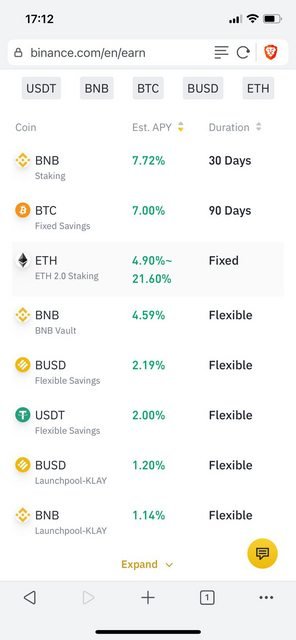 Binance Visa card
If you want to go all out crypto and look like a proper Bitcoin OG, you can apply for the Binance Visa card.
You will need to complete the KYC process to the max level in order to get the card, but it's well worth it for the perks.
You have to convert your crypto into fiat through the mobile application and then add the funds to your card – just as you do for most other crypto exchange cards.
You can then use your Binance Visa card at shops, ATMs and businesses that accept Visa.
As a reward, you get 8% cashback on all purchases, which is much better than the bonuses of free and paid credit cards these days.
Binance customer support
We all get stuck or confused from time to time, but that's part of life.
So, Binance has gone above and beyond to create one of the best support teams in the crypto world.
If you're in a jam and totally stuck, you can reach their support via live chat and email 24/7.
For email support, just click on the "create a ticket" option in the help center.
Alternatively, you can get live support by clicking the message icon in the lower right-hand corner of your screen.
But, for the most part, problems can be resolved in the help center through the guides.
Binance has put together detailed guides on how to fix virtually every problem and how to use all their features and apps.
You can find those guides here, and should always be used when possible, allowing the support crew to help those in desperate need.
Is Binance legal?
For the most part, Binance is completely legal.
Binance isn't regulated in many markets, so you could wake up one day and find that your country has banned Binance, just as the Brits did earlier this year.
In the event your country goes anti-Binance, you'll still be able to withdraw your crypto back to your own wallet.
Your account will never just be closed down, the Binance team will make sure of it.
Binance is legit as they come and isn't the biggest or best for no reason at all.
If you live in the USA then you'll need to use Binance US as that's regulated by American authorities.
We'll likely see a Binance UK pop up in the coming months and it will comply with UK law.
Are profits from Binance taxed?
Depending on where you live in the world, your profits from Binance are likely taxable.
There are a few exceptions to the rule, whereby you can cut your tax bill down to $0.
For the most part, however, you will pay standard capital gains tax rates.
In Australia, Germany and Malta, you don't have to pay tax if you hold cryptocurrencies for more than a year.
In countries that don't have tax, or capital gains tax, then you also don't have to pay.
You can learn more about tax on cryptocurrency with our handy guide to crypto tax!
Conclusion
It's without a doubt that Binance is one of the best crypto exchanges around.
It's the biggest by trade volume, it's got an insane number of trading pairs, the support is super helpful and its constantly adding new features.
Even though it got hacked fairly recently, it has stepped up its game to prevent it happening again.
There are loads of features that you can take advantage of to place smart trades, take advantages of small price movements and more, so really get stuck in to these to get the full Binance experience.
The Launchpad is a great place to check out upcoming projects and get in at a super cheap price.
Owning BNB is definitely worth the rewards, so make sure this is one of the first coins you buy when you get a Binance account.
Overall, Binance stands out as the best crypto exchange around – hands down!
Frequently asked questions and answers
What currencies can I use at Binance?
You can deposit in a range of fiat currencies, including:
AUD
BRL
EUR
HKD
KZT
NOK
PEN
RUB
TRY
UAH
UGX
There are more than 150 cryptocurrency pairs as well that you can trade, including all of the big names.
Is Binance available in my country?
Binance isn't regulated or licensed, meaning that it can operate in virtually all countries without any trouble.
However, a few countries have started to dislike this attitude and are blocking access to Binance.
Generally speaking, if your fiat currency is supported, then you can use Binance.
Will Binance list more currencies?
It's in Binance's interest to add more trading pairs if there's volume to be added to the exchange.
As a result, Binance regularly reviews new coins and tokens to add to its platform.
At the same time, it also reviews those on the platform and will delist those with poor volume.